Emergency arrangements
May 17, 2021
The government has now relaxed emergency legislation, so we're offering a simple menu for breakfast and lunch  as long as we're sure we can do so without exposing our customers or staff to danger.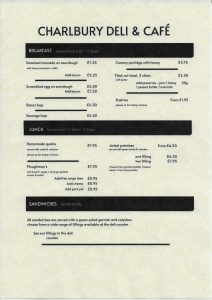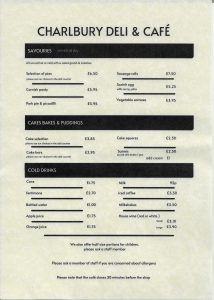 We're still keeping our limit of one customer in the shop at a time, with one waiting in our upper room.
But it'll be safe to allow cafe sales indoors, we'll be serving in our walled garden and we've agreed with West Oxfordshire District Council to put tables and chairs on Market St.
We're still selling the best coffee in the Cotswolds to take away, but please don't bring recyclable cups yet, because we can't fill them.
In the meantime we'll still be offering phone ordering, home deliveries, payments on account and prebooked personal shopping slots after other customers have gone home.
Many Charlburians want to get out more – but many others are still self-isolating, and want the Cotswolds' best coffee, bread, milk and fruit & veg to help them keep well and safe.
We'll try to announce any more changes here, to customers on our newsletter list and on the Charlbury town website.
We're currently open from 8.30 to 4.30 pm, Monday to Saturday.
We're currently selling our customers far more groceries than we were before the virus struck.  More and more people have been depending on us for food that bigger shops haven't been able to sell, for better food and for more attentive service.
If just one Covid case were traced back to a contact someone had made in the Deli, we'd have to send staff home. If that happened, we haven't got enough people trained and able to circulate to keep the shop open.
Mercifully, our customers' loyalty and taxpayers' generosity since Lockdown make us financially healthy enough not to be desperate for the business a full cafe re-opening might give us.
So right now, we're still giving top priority to keeping our staff and customers healthy – and we'll still sell the best range of groceries for miles around.
We'll be reviewing this every week, and we'll certainly become Charlbury's buzzing  daytime hub again.
We want to keep seeing our loyal customers and the new visitors  Charlbury's been attracting. We'd rather not risk being forced to close. So forgive us if we might sometimes put staff and customers' well-being ahead of chirpy service.