Just the sort of evenings for root vegetables and a nice bottle of red.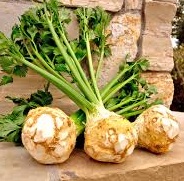 And if you don't buy up our loose, plastic-free, veg display (including great looking celeriac, parsnips, butternut squash and sweet potatoes), we'll have some terrifically nutritious soups next week.
Wherever possible at the Deli: what we don't sell, we soup, bake or compost.
Opposite the veg is our promotional red of the month. Fat Man
Pinotage from South Africa's Western Cape: £9.99 a bottle or £8.49 if you buy two or more.
It's a clean, smooth, medium-bodied red, whose makers say it tastes of "juicy red berries and plums with hints of milk chocolate, oregano and spice"  
Your Deli Doodle Drafting Drone could only taste the berries. But that might be because his mind was on the wine's odd name. The makers say it comes from a fat man in Franschhoek, where the wine's made. Always used to have a dog with him.
The Drone's taking it personally. Can't imagine why.