From Friday November 29, the full-cream milk at the Deli will be from the North Cotswolds Dairy at Butlers Road Farm, Long Compton. At present, we'll just be selling their milk. But as soon as their machinery's repaired we'll be selling their delicious cream and we'll soon be selling milkshakes from their milk as well.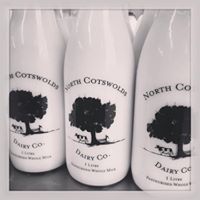 We'll still be selling semi-skimmed milk from ordinary dairies for those of you who prefer it in their tea or coffee. But nothing beats proper full cream on porridge, or in rice pudding.
You can get a sense of how North Cotswold operate at their Facebook page
This is just the start of our Christmas offer. You'll be able to sample the milk at our Christmas shopping evening till 8pm on December 6 – along with free samples of some terrific new Cotswold drinks, local bacon, locally cured venison and charcuterie and some fabulous panetonne.